A for Vitamin A ... and Carrots

Other names:
Retinol-A

Pro-Vitamin A

Beta Carotene (technically, beta carotene is a precursor to Vitamin A)
Nutrient Family: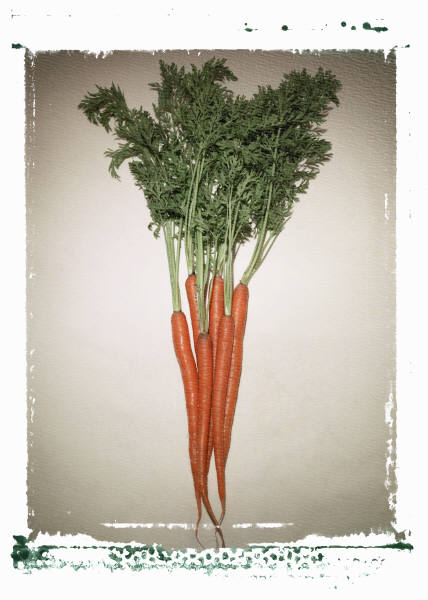 The most famous source of Vitamin A is the humble carrots. Throughout my life, my eyesight has been considered good. I never had myopia until quite late in life and even at my age now (50+), I do not suffer age related long-sightedness.
I attribute my good eye health to the raw carrots my mother used to feed me whenever she cooked carrots – to keep me occupied while she cooked the family's meals. With 8 children to feed, and carrots being one of those "regular" vegetables that we could afford in those days, I had plenty of raw carrots while I was young. The added blessing was, in those days, it was all organic; so, I had the maximum benefits of eating organic raw carrots. For the last couple of years, I have been on antioxidant eye supplements. All these helped to curb the degeneration of my eyes … due to age …
Vitamin A's Workings

Fat or Water Soluble Antioxidant: 
Other functions besides being an antioxidant, Vitamin A is required for:
(healthy) color and, black and white vision; exist in the rods and cones of the eyes

bone growth

tooth development

reproduction

cell division

gene expression (from retinoic acid, converted from Vitamin A)


regulation of the immune system

to keep skin, eyes, and mucous membranes of the mouth, nose, throat and lungs moist.
Examples of signs of deficiency :
Where Is Vitamin A Found Naturally?

Vitamin A can be sourced from :
                o   in Retinol form, ready to be used as Vitamin A
plants, in the forms carotenoids -  beta-carotene, alpha-carotene, cryptoxanthin, and  y-carotene
               o   which are converted into Vitamin A in the body
               o   also known as Pro-Vitamin A
Being a fat soluble vitamin, it is stored in our liver.
Examples of food sources  :
carrots

liver


cheese

eggs

pumpkin

winter squash

apricots
Health Benefits of Vitamin A

Examples the health benefits of Vitamin A :
                o   protects the DNA from radiation damages by neutralizing the free radicals
                o   retinol reduces the damages caused by radiation, to both the DNA and Immune system
Possible Interactions
                o   However, studies have shown that in smokers, excessive beta carotene can be harmful.
Home

>
Types of Antioxidants
>
Return to the Top - Vitamin A